Whether you've decided to tackle a DIY project by installing your own patio or you've hired a contractor or landscape designer to do it for you, you're going to have to select the materials you prefer. There are many choices to consider.
Between Cast stone pavers, concrete, gravel, and even wooden decking, it can be difficult to determine the materials that are most suitable for your patio. How can you make the right decision? There are several factors to consider when making your choice.
Usage
Above all, you need a product that's going to meet your practical needs. Sure you might like the look of wooden decking, but does it have the same longevity as Cast stone?
Naturally, your personal taste and the style of your home will play some role in your decision, but first and foremost you need patio materials that suit a functional purpose. For example, if you plan to place furniture on your patio, you might prefer a smooth surface like concrete or Cast stone pavers instead of, say, gravel or uneven rock surfaces, so that your furniture doesn't tip every time it's touched.
Do you want your patio to double as a sport surface where your kids can shoot hoops? In this case a concrete surface might be your best bet. Before you even start looking at patio materials, take the time to consider planned usage to ensure the end product meets your needs.
Climate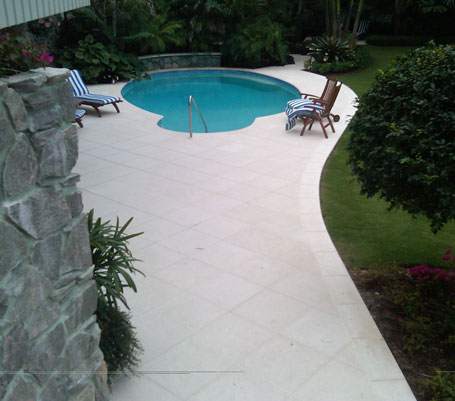 Materials designed for use in patio surfaces should have features that allow them to hold up under a variety of weather conditions. After all, they're meant for outdoor use. That said, certain materials are bound to be more durable than others when faced with extreme weather conditions.

Wooden decking can be lovely, but even with weather protection in place, it's only a matter of time before exposure to the elements takes its toll. Over time you could be dealing with rot, mold, warping, and a variety of other issues that make your patio surface unusable and even dangerous.
Even in a relatively temperate climate this might still be an issue as even rain and sun can wear down certain materials.
Maintenance
Every patio surface is going to need some kind of maintenance to avoid damage and keep it looking good for years. The question is how much. What will it cost you in time, effort, and money?
When considering materials, it's best to ask about appropriate maintenance so that you have an understanding of the relative difficulty and cost of upkeep.
Cost
The cost of materials and installation is always relevant when it comes to home upgrades. Your patio isn't likely to show much return on investment, but attractive outdoor spaces can definitely make your home more appealing.
Regardless, you likely have at least some idea of a budget going in and you'll need to find materials that meet functional needs, suit your aesthetic, and come in under budget.
Expert Advice
Most people don't know the first thing about patio materials. But purveyors of pavers and other patio surfaces can offer a wealth of knowledge and experience. Come prepared with questions and you're sure to get the expert advice you need to make an informed decision.
Sign up to get unlimited and immediate technical documents, requests for quotes, and helpful support from our experienced team.
Sign up