The aesthetic appeal of cast stone outdoor water fountains is one of the main reasons why they are a top choice by landscape designers for a variety of commercial projects. There is no doubt that cast stone provides an architectural look to ornamental masonry products that withstands the harshest weather conditions and requires little or no maintenance.
Breathtaking custom architectural commercial outdoor water fountains in any shape, size, color, and texture can be designed to complement a property's hardscape and surrounding building structures. Cast stone fountains become a focal point at entryways, pools, and gardens in communities, shopping centers, resorts, theme parks, and luxury residential properties.
But many other factors should be considered when choosing building materials and design for commercial water fountains outdoor and indoor locations. Keep reading to learn more about the benefits of cast stone fountains for beauty, durability, timing, costs, as well as recommended maintenance.
Why Choose Cast Stone Fountains
A major consideration when it comes to cast stone fountains for sale is their durability and maintenance requirements. This is where cast stone outdoor fountains have the potential to outperform all other types of fountain construction materials. Resilient cast stone manufacturing requires that the construction process meets or exceeds the durability requirements set by the ASTM (American Society for Testing of Materials). This is a recognized standard for strength, durability, and the low absorption of water in the manufacture of cast stone concrete products.
Besides strength and durability, another major benefit of cast stone outdoor water fountains and other water feature cast stone concrete products is that they are cost-effective and decrease manufacture and delivery time. The reduction in downtime from lengthy storage as well as decreased labor and props and site formwork requirements makes architectural cast stone an excellent choice for commercial and residential projects.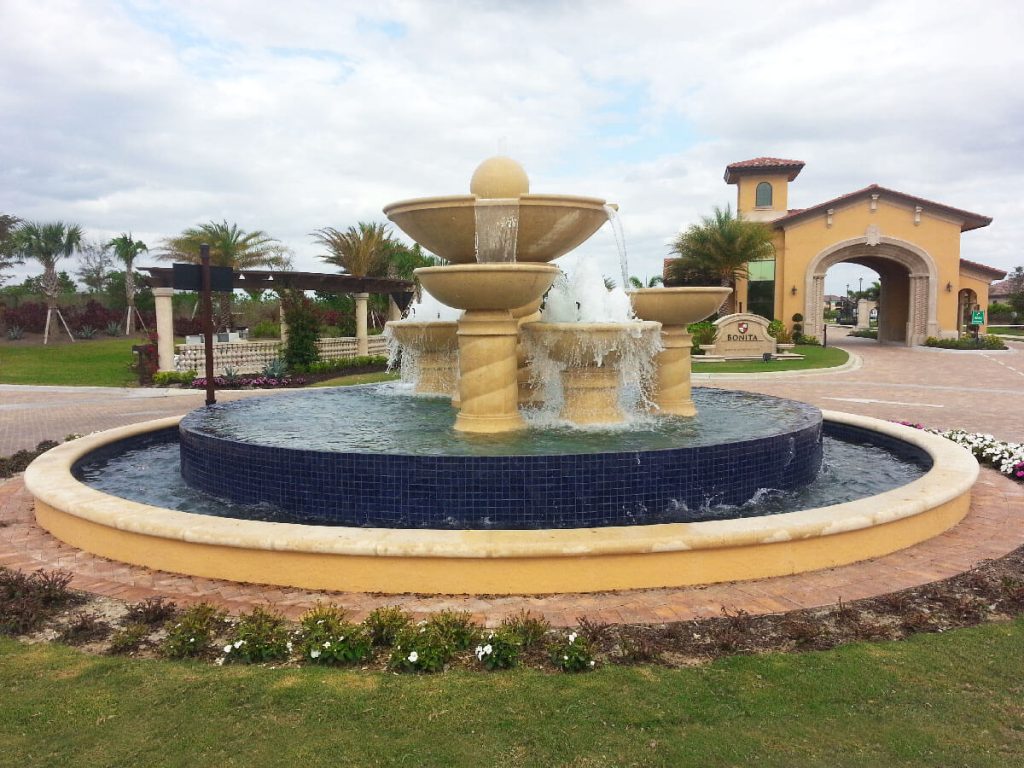 Unlimited Decorative Designs for Cast Stone Outdoor Water Fountains
Design possibilities for creating a breathtaking and harmonizing water fountain focal point are only limited by your imagination. custom solutions for cast stone outdoor fountains can be simple or very complex. It might be a designer water feature within a resort size pool and spa, cascading ripples over concrete steps, or shooting water jets surrounded by an elegant geometric shape in colors and textures that blend with the surrounding hardscape and landscape design.
Whether small or large, cast stone outdoor water fountain designs are greatly enhanced by customization in sizes, colors and textures that coordinate with custom cast stone coping, cladding, bowls, planters, benches, and other cast stone furnishings.
When looking for commercial water fountains for sale, a good manufacturer will produce complementary precast concrete products for all landscape, hardscape, and pool projects. Besides having a skilled workforce, they will provide individualized consultations for meeting the specific design and layout requirements of their clients.
Cast Stone Fountains for Sale that are Virtually Maintenance Free
With proper construction based on ASTM requirements for cast stone concrete products, cast stone is virtually maintenance-free. A few cleaning tips, however, are recommended to eliminate dirt and stains that may build up on the cast stone over time. Equipment needed includes a commercial concrete cleaner containing a chlorine solution, rubber gloves, a soft brush, and a garden hose. After spraying the cast stone thoroughly with water, the concrete cleaner is carefully applied using rubber gloves. A soft brush can be effective in removing stubborn stains. The cleaning solution is left in place for the amount of time prescribed by the instructions for the cleaner before thoroughly rinsing the cleaned surface with water using a garden hose. Corrosion will be prevented when open joints and surfaces with sealants do not come in contact with the cleaner. Avoidance of metal brushes, acids, power washing, and sandblasting techniques will prevent damage to the cast stone and keep it pristine and looking new.
The Best Value in Commercial Water Fountains for Sale
If you're ever had the wonderful experience of a visit to Epcot in Orlando, Florida, you were likely in awe by the giant globe water fountain at the entrance to the theme park. Epcot's entry fountain is one of many cast stone projects by an elite landscape architect firm where D.C. Kerckhoff Company was and continues to be the specified precast manufacturer of choice.
When it comes to the manufacture of cast stone fountains and other precast concrete products, D.C. Kerckhoff Company has revolutionized the industry with products that exceed the ASTM requirements for the construction of cast stone concrete products. Their unique manufacturing process by a skilled artisan staff in combination with personalized complimentary consultations, and free CAD files and samples, are major reasons why D.C. Kerckhoff Company has remained a top choice for resorts, hotels, communities, theme parks, and other commercial properties.
For over 40 years, DC Kerckhoff Company has manufactured high-quality, durable precast concrete fountains, water features, pavers and hardscape, and architectural cladding products in Naples, FL. These quality manufactured products are shipped to shopping malls, gated community entries, municipalities, hospitality, theme parks, and exclusive private residences throughout the US and the Caribbean.
Need help with your design ideas for commercial water fountains outdoor and indoor locations? We can help! The experienced staff at D.C. Kerckhoff are waiting to assist you in creating a captivating cast stone water fountain as well as any other precast products that work best for your landscape, hardscape, or pool design project. Get in touch today!
Sign up to get unlimited and immediate technical documents, requests for quotes, and helpful support from our experienced team.
Sign up