Landscape designers and hardscape companies know the value of precast concrete pavers for beauty, durability, and maintenance. From free form steppingstones in a waterway to large scale modern precast concrete pavers that can withstand vehicular traffic, landscape and hardscape professionals build the most beautiful designs with cast stone pavers manufactured in shapes, sizes, colors and textures to meet their various purposes and requirements.
What Landscape & Hardscape Companies May Not Know
Landscape designers and hardscape companies for high-end properties, know the value of beautiful precast concrete pavers for upgrading the architectural beauty of a hotel pool deck or resort hardscape. They know that the right choices in commercial grade pavers can greatly elevate the architectural beauty of walkways, driveways, turnarounds, and pathways. Concrete pavers add to breathtaking views when combined with cast stone wall veneer, wall coping, columns, planters and bowls, furnishings, and benches - complementary precast products that enhance the buildings and water features they surround.
What these designers may not know is what is best suited for large commercial projects, pavers for use with plantings, or colors and finishes ideal for Florida and other tropical destinations. Perhaps they are unaware of where they can obtain an incredible array of customizable paver choices that can be ordered along with complimentary pool and water features and architectural precast cladding. They may also believe that all precast concrete pavers are about the same in terms of quality and maintenance - when nothing could be further from the truth.
Read on to know more about precast concrete pavers, how to find the best quality precast products, and how to make the best choices for your project!
Best Concrete Pavers for Large and Small Commercial Projects
Large precast concrete pavers for walkways and driveways, make an ideal choice for high volume requirements in sizable commercial projects. Large pavers can also be used continuously as steppingstones on a walkway or placed individually between plantings. Captivating designs can even be created with layout patterns from narrow and oversize concrete precast paver selections.
Textured large or narrow linear precast concrete pavers are ideal for driveways, turnarounds, and pathways. Whether for a pool deck or walkway at a hotel or private residence, linear pavers add a timely look to any hardscape. Modern precast concrete pavers add a contemporary look to any landscape and hardscape project. This can be accomplished with precast concrete pavers in a variety of colors, textures, sizes, and patterns.
Customizable Size, Color, and Pattern Cast Stone Paver Choices
The best concrete paver companies will provide a vast collection of cast stone pavers for use in all types of commercial landscape design and hardscape projects. Be it for a private patio, a private pool, a country club pavilion, or a hotel courtyard, customized options should offer lower cost standard selections and the ability to order custom colors, textures, shapes, sizes, and patterns. A good precast manufacturer will produce complementary precast concrete for all landscape, hardscape, and pool projects. Besides having a skilled workforce, they will provide individualized consultations for meeting the specific design and layout requirements of their clients.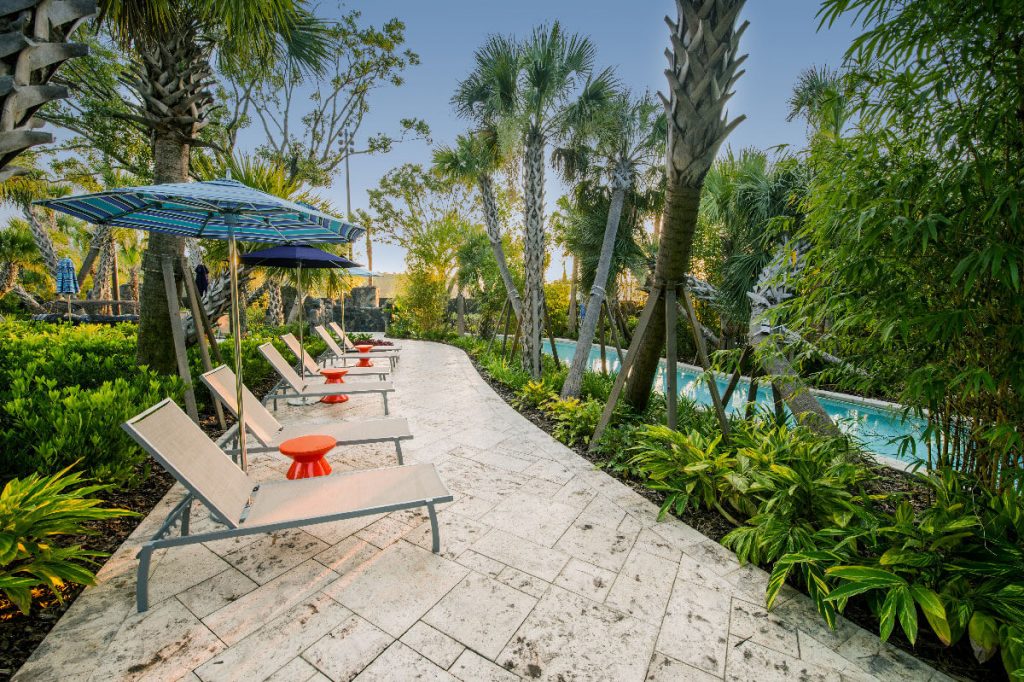 Not all Precast Concrete Pavers Meet the Same Standards
While most precast concrete pavers in the market provide some low-maintenance solutions, not all precast concrete pavers have low water absorption or meet or exceed the durability requirements set by the ASTM (American Society for Testing of Materials). This organization defines standards for strength, durability, and the low absorption of water in the construction of cast stone concrete products.
D.C. Kerckhoff - Your Best Choice for Precast Concrete Pavers
Of all precast concrete manufacturers, only D.C. Kerckhoff Company has revolutionized the industry with cast stone products that exceed the ASTM requirements defined by strength, durability, and the low absorption of water in the construction of cast stone concrete products. This is a major reason why D.C. Kerckhoff Company Is a top choice for resorts, hotels, communities, theme parks, and other commercial properties.
For over 40 years, DC Kerckhoff Company has manufactured high-quality, durable precast concrete pavers and hardscape products in Naples, FL. The manufactured products are shipped to shopping malls, gated community entries, municipalities, hospitality, theme parks, and exclusive private residences throughout the US and the Caribbean.
D.C. Kerckhoff's traditional pavers with a Keystone finish are a popular choice for Florida and other tropical locations. The keystone finish simulates the natural coral stone of Florida. It is available in a variety of sizes and can be mixed in pallets with any combination of colors and sizes to fill the pallet.
Need help with your precast concrete paver layout design? No worries! The experienced staff at D.C. Kerckhoff are happy to help you create the layout that works best for your landscape, hardscape, or pool design project. Get in touch today!
Sign up to get unlimited and immediate technical documents, requests for quotes, and helpful support from our experienced team.
Sign up