So you're ready to landscape your garden! And of course, like any discriminating homeowner, you want to use the highest quality materials you can find. Thus, you're certainly leaning toward Kerckhoffstone Cast stone to beautify your backyard.
But although Cast stone is a beautiful material, there are just so many options when it comes to using it in and around your home. How do you decide what kind of Cast stone to use? And how much is too much? What features of your yard and garden do you want to highlight, and how?
Here are a few design tips for using Cast stone features in your home landscaping.
Pavestones
There's nothing more beautiful than a pathway paved with gorgeous and durable Cast stone flagstones. Whether you are creating a footpath from your back porch to your garden, or whether you want to create a lovely path to encircle a pond, flagstones can help to beautify any backyard.
Cast Stone Veneer
You've been glaring at the ugly garden wall for ages, without knowing how to fix it up. It's made of weather-stained concrete blocks, and you experience physical pain every time you see it. If only there was a way to make that wall more attractive without completely tearing it down and starting over.
Lucky for you, there is! Cast stone veneer allows you to adhere thin pieces of Cast stone to that unsightly garden wall. This makes it look as though the whole wall is built of beautiful granite or limestone when in reality it is an outer shell of Cast stone. Much less expensive, but still perfectly gorgeous!
Fire Pit
This sounds so much more difficult than it is! A cast stone fire pit is simple to build and it immediately adds an attractive and functional piece to any backyard! Creating your own fire pit is an easy three-step process. First, dig out your firepit; second, order a kit from DC Kerckhoff Co or simply purchase your own cast stone wedges, and finally arrange them in a two-layer circular rings. There are plenty of DIY articles and videos available on line. Once you see other beginners give it a try, you will feel much more confident and ready to start building.
Cast Stone Treads
This is even easier than the fire pit. Slabs of staggered simulated limestone or slate can be arranged against a hillside so as to create steps leading to a porch, backyard, or garden. This is a beautiful and simple way to create outdoor stairs - so much simpler than building a staircase out of wood! Although you may spend a little more money on quality cast stone than a porch steps built of two-by-fours, the cast stone steps will last longer and retain their beauty for years to come.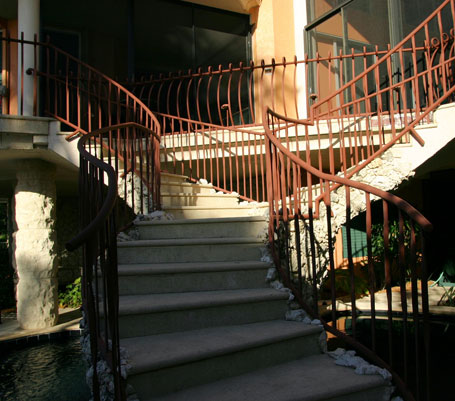 Sign up to get unlimited and immediate technical documents, requests for quotes, and helpful support from our experienced team.
Sign up